Deprecated: Function ereg_replace() is deprecated in /home/n8f8/public_html/index.php on line 313

Lowing
Googleing across the web I came across an interesting bit of infomation about the Lowing "Mob" in Australia. Here is some correspondence I received from the person who put the information on the web.
From "Latham" ( )

The Lowing who was a butcher in Parkes in 1874 was William Alfred Lowing, b. London 1847, parents: William Reeves Lowing and Hannah Bradbrook.

William Alfred and his siblings (Mary Louisa, Ann Susannah, John Thomas, and Elizabeth Emily Lloyd) were baptised at All Souls, St. Marylebone, London on Feb 3, 1853, presumably just before they all boarded ship bound for Australia. There was another baby, Albert Edward, b. London Feb 1853, but apparently not baptised, so may have been born after Feb 3. Albert Edward and his mother died of dysentery shortly after the family arrived in Melbourne.

William Alfred married 16 year old Helen Clara Pringle in Parkes Dec.12, 1874. He went on from being a butcher to buying cattle and becoming an important landowner in the district. William and Helen had 8 children: Annie Georgina, Nellie Frances, Walter Harold, Bertie Macadam, Willie R.P., Barbara Florence, Jessie Gladys, and Alan Hill, who was my father.

William Alfred served two terms as Mayor of Parkes in the 1890s. He went bankrupt in the financial crash of the 1890s as he had borrowed heavily to build up his properties.

He died in Mosman, Sydney Dec.20, 1924. Helen Clara died at Lane Cove, Sydney on Aug. 4, 1951.

Marion Latham

William Alfred certainly founded a 'Lowing Mob' in Australia.
Here is a copy of the original page:
LOWING ("The Lowing Mob") This is Marion's paternal ancestry. There are still many unanswered questions about this family. According to family 'legend', William Reeves Lowing did not get along with his step father and left home as a young teenager. He did not have much contact with his mother after that, but apparently did take his family to visit before they embarked for Australia.

William and Hannah Lowing brought six children to Australia in 1853. The eldest, Mary Louise, was nine years old. Shortly after their arrival, Hannah, and then the ten month old baby Albert, died of dysentery. The baby died on Christmas Eve. William did not re-marry and apparently raised his children alone, possibly on farms in northern Victoria.

He eventually went to Parkes, New South Wales, probably following his eldest son, William Alfred. William Reeves died in Parkes and was buried at a small country cemetary at Goobung.

William Alfred began work as a butcher. He began to buy cattle for himself and eventually became a wealthy landowner. He served two terms as Mayor of Parkes in the 1890s. He had unfortunately borrowed large amounts of money from the banks to finance his properties and lost much of his wealth in the financial 'crash' of the 1890s.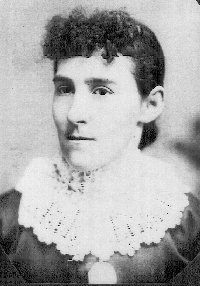 William Alfred Lowing Helen Clara Lowing

The Lowing home still stands in Parkes

William Alfred and his wife, Helen, had eight children. The youngest, Alan, was Marion's father.

LOWING, John.
Born: c 1748/49
Marr:
Died: c 1816?
Edmonton, Middlesex, Eng.
LOWING, William
Born:
Marr.: 9 May, 1813, Holy
Trinity, Gosport, Ports.
Died: March 1817 or 1818.
? , Elizabeth
Born:

Died:

LOWING, William Alfred
Born: 14 April, 1847
11 Brand St. Marylebone
Lond. Eng.
Marr.10 Dec. 1874
Parkes, N.S.W. Aus.
(Helen Clara Pringle)
Died: 20 Dec. 1924, Mosman, N.S.W. Aus.
LOWING, William Reeves
Born: June/July 1816
Lond.
Marr. 10 Oct., 1841,
St. Geo. Hanover Square, Lond. (Hannah Bradbrook)
Died: 11 June, 1879
Parkes, N.S.W. Aus.
MARTIN, ?
Born:

Marr.

Died:

MARTIN, Nancy (Ann)
Born:
Colchester, Sussex, Eng.
Marr(2): 1 May, 1820
Spitalfields, Middlesex, Eng.
(John Griffiths)
Died:
(Mother)



Grand Rapids, Moore and Abel, and a vexation to the settlers around; they being few in number, were quite too frequently called from home, as jurors, to decide upon the contentions of the two owners of the mill. This mill was built at Sand Creek about the year 1838 or 1839, by B. Church, a Seventh Day Baptist, who resolved that his property should not labor on Saturday, and James Ualton, a Catholic, who resolved that his property should labor on Saturday, but not on Sunday. This was the first bone of contention between them, but led tomany others. The difficulty was partially compromised after awhile, by an arbitration, in which Amos Robinson was the principal arbitrator. He determined that each man should use the mill the alternate week; but that did not stop the litigation, which continued without abatement until both parties were very much impoverished, and was only terminated by a separation of the parties. Mr. Dalton abandoned his property and went to Chicago, where he has since remained. Both parties having cut their pine, the mill went into disuse, and 'was swept away a few years ago by the flood. Abel and Moore each lost the pearl of great price, and both abandoned the practice of the law soon after.
At the time that Georgetown was organized, in 1840, it embraced four townships, those that are now known as Jamestown, Zeeland. and Hiendon. Jamestown was organized about 1849. Jamestown took its name from three James's—James Skeels, the second supervisor, James Brown, and James M. Conkwright. The land, although mostly located by specu lators, in 1835 was mostly put on the market, and was rapidly settled by emigrants largely from Ohio. The first settler in Blendon was Booth Kinney. who settled on Dec. 12, about the year 1845, now dead. Afterwards a family by the name of Woodruff,—Milton, and Henry,—who settled on the same section. This town settled very slow. Stoors & Wyman built a mill in southeast pnrt of the town somewhere about 1850. The town was organized in 1856. First town meeting held at the house of Booth Kinney. Albert Vredenburg was the first supervisor. Zeeland was set off from Georgetown and attached to Holland, and was after organized, and one D. Young was the first supervisor: this was about 1850. The heads of families of the settlers as early as 1840 are now nearly all dead. Henry Griffin, J. V. Harris, Samuel Hart> Thomas Woodbury, Daniel Rieley, and Mrs. H. Steel are the only survivorswho first settled Talmadge.
Hiram Jenison, Luman and Lucins Jenison, S. Yeomaus, L. Burdsly, Edward F. Bosworth, and Freeman Burton are the only survivors of the residents of Georgetown, in 1840, at the time of its organization. The settler* of that day endured many trials and privations, such as are incidental to a: new country. The western portion of the county, and particularly on the south side nf the river, was regarded valueless for agricultural purposes, and had been a great drawback to the settlers in the eastern part of the county, owing to the malaria rising from low lands, causing much sickness, from which very few, if any, of the older settlers were able to escape. It was not unfrequently the case that whole families were found sick with the ague and burning fever at the same time, and no one able to offer a draught of cold water,—and frequently these families resided many miles from other settlers. The mdsquitoes and fleas were intolerable.
The contrast in the appearance and comforts of this county in 1840 and the present day is very great.