Deprecated: Function ereg_replace() is deprecated in /home/n8f8/public_html/index.php on line 313

Grandville Historical Commission
The Grandville Historical Commission of Kent County, Michigan is dedicated to preserving the history of Grandville. The Commission originated in 1970 when the group started researching the area's background. The history was written in 1972 and published in April of 1973 as a 348 page book, Bend in the River.

As the material was collected for publication in Bend in the River it was decided there was a need to display this material and so the Grandville Museum was opened in May 1976 to showcase local history for years to come. Its exhibits of local historical items are designed to show the development and growth of Grandville heritage. We also have a growing collection of pictures relating to Grandville. The Museum is open the first Thursday of the month from 1 to 4 p.m. and will open special by appointment. It is located in the lower level of City Hall at 3195 Wilson Ave. on the corner of Wilson and Prairie Sts. There is no admission, but donations are welcome.

We operate our one room #10 school house that was built in 1887. The school was moved to Heritage Park where we use it as a school museum and have elementary students come and spend a regular school day there.

One of our project's has been to microfilm all the Grandville newspapers. These include the Grandville Star, Southwest Alliance Newspapers dating back to 1912 and most recently the Advance Newspaper. After filming they are turned over to the Grandville Library for use on microfilm.

We also have files pertaining to people past and present who lived in Grandville. These are taken from clippings and scrapbooks that people donated to us. We also clip out current Grand Rapids Press obituaries of Grandville people. We have a printout of our Grandville Cemetery which was formerly the Wyoming Township Cemetery.

Grandville Historical Commission, 3195 Wilson, Grandville, MI 49418 Open to the public: First Thursday of each month, 1 p.m. - 4 p.m.

hat, but apparently did take his family to visit before they embarked for Australia.

William and Hannah Lowing brought six children to Australia in 1853. The eldest, Mary Louise, was nine years old. Shortly after their arrival, Hannah, and then the ten month old baby Albert, died of dysentery. The baby died on Christmas Eve. William did not re-marry and apparently raised his children alone, possibly on farms in northern Victoria.

He eventually went to Parkes, New South Wales, probably following his eldest son, William Alfred. William Reeves died in Parkes and was buried at a small country cemetary at Goobung.

William Alfred began work as a butcher. He began to buy cattle for himself and eventually became a wealthy landowner. He served two terms as Mayor of Parkes in the 1890s. He had unfortunately borrowed large amounts of money from the banks to finance his properties and lost much of his wealth in the financial 'crash' of the 1890s.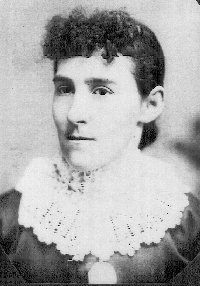 William Alfred Lowing Helen Clara Lowing

The Lowing home still stands in Parkes
William Alfred and his wife, Helen, had eight children. The youngest, Alan, was Marion's father.

LOWING, John.
Born: c 1748/49
Marr:
Died: c 1816?
Edmonton, Middlesex, Eng.
LOWING, William
Born:
Marr.: 9 May, 1813, Holy
Trinity, Gosport, Ports.
Died: March 1817 or 1818.
? , Elizabeth
Born:

Died:

LOWING, William Alfred
Born: 14 April, 1847
11 Brand St. Marylebone
Lond. Eng.
Marr.10 Dec. 1874
Parkes, N.S.W. Aus.
(Helen Clara Pringle)
Died: 20 Dec. 1924, Mosman, N.S.W. Aus.
LOWING, William Reeves
Born: June/July 1816
Lond.
Marr. 10 Oct., 1841,
St. Geo. Hanover Square, Lond. (Hannah Bradbrook)
Died: 11 June, 1879
Parkes, N.S.W. Aus.
MARTIN, ?
Born:

Marr.

Died:

MARTIN, Nancy (Ann)
Born:
Colchester, Sussex, Eng.
Marr(2): 1 May, 1820
Spitalfields, Middlesex, Eng.
(John Griffiths)
Died:
(Mother)